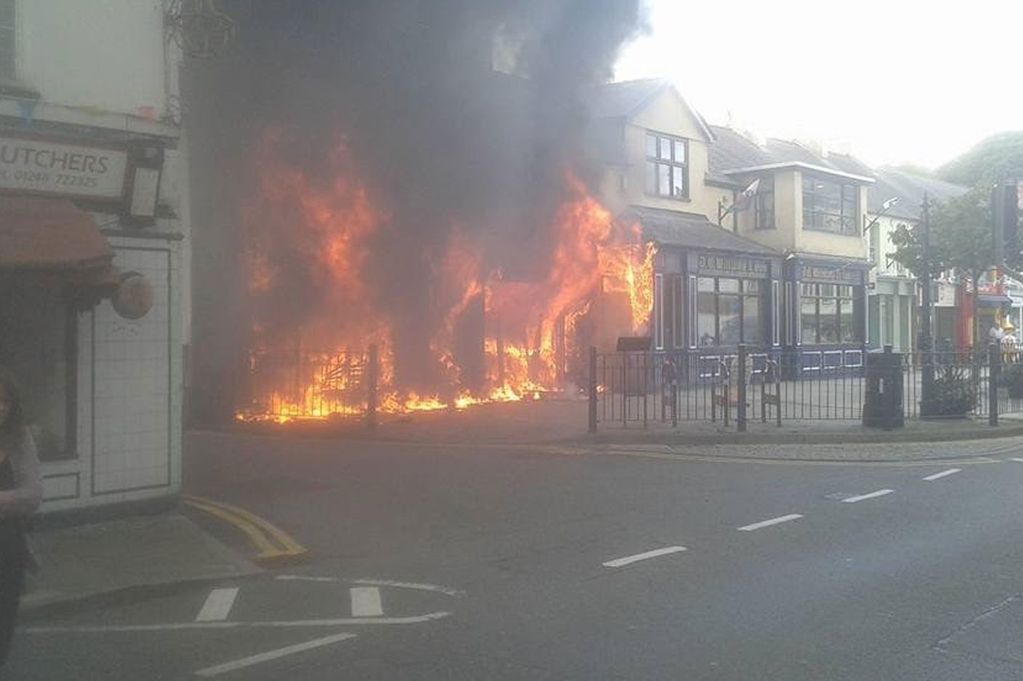 Fire Prevention in Fast Food Establishments
It's the call nobody wants to receive and it's the call to your insurance company that you don't want to make. Imagine settling down at home after a long shift in your shop to the phone ringing and terrifying realisation that your empire and your livelihood are going up in smoke.
The Fire Protection Association claims that on average 9.8% of all large loss fires relate to Food and Drink Establishments, with those that have frying ranges at a significantly increased risk. Not only can fire devastate your business, but it is also a threat to yourself, your employees and your clients. The aftermath of a fire can have a detrimental effect on your business and once loyal customers may decide to go elsewhere.
We asked a valued client, Mr Paresh Patel of Claydon Fish and Chip Shop in Ipswich, who suffered a recent fire for some advice. He wrote,
"We all think that it happens to others, not us as we have everything covered…that is, until it does!
We had a fire last year and the incident really drives home the importance of having full and adequate insurance cover plus dealing with a professional Insurance Broker who will work on your behalf to obtain for you the correct resolution.
On a day to day basis, constantly look around your shop as over a period of time the procedures that you would have so meticulously put into place, may start to slip and you need to spot any anomalies and ensure these are corrected.
Insurance companies place conditions on the policy, normally under the heading 'Warranties or Endorsements Applicable'. I cannot stress the importance of ensuring that you have satisfied each and every warranty. It may be boring 'small print' but should the unthinkable happen, you will have a better chance of a speedy settlement and getting back up and running quickly."
As Insurance Brokers specialising in fast food insurance for over thirty years, in this article we share with you 5 things to consider in order to help avoid your shop being at risk.
The importance of regular Ducting maintenance and cleaning
Industry statistics reveal that 70% of fires in commercial premises originate in extract ventilation systems, often due to the build-up of fats. Always ensure that you read, and understand your insurance kitchen duct warranty. All good insurance policies have this specified and you need to ensure an independent specialist subcontractor is employed to clean and service the cooking fume extraction canopies and ductwork as stated in your warranties. Usually this is every 12 months, but some policies specify every 6 months.
Filters, traps or other grease removal devices should be cleaned on a regular, scheduled basis, at least weekly and records kept of such activities.
Frying Range and Equipment Safety
Another common cause of fire in a fish and chip shop is the oil in the range catching fire. Oil reaches flash point just before it reaches 400 °C and frying equipment should be fitted with a thermostat designed to prevent the temperature of cooking oils and fat from rising above 205°C.
These thermostats are probably the most important piece of machinery in your premises. They may be small and difficult to see, but if they fail or are overridden, your premises are at risk! Look after them, have them checked regularly, temperature test them yourself, because if you look after them, they look after you!
Multipurpose fire extinguishers or other materials suitable for extinguishing oil and fat fires should be maintained and close by, ready for immediate use. Make sure you and your staff are comfortable handling them.
Pans also should be fitted with metal lids which can be shut down in the event of oil or fat ignition in order to prevent the spread of fire and the range must never be left unattended.
Local Fire Brigades, often offer a service visiting businesses to give advice of further fire prevention methods. This is usually free, so take advantage of everything they have to offer to maximise the safety of your business.
Staff Training
Never underestimate the importance of staff training, something that may seem obvious to a more experienced Frier, might never cross the mind of an apprentice. The best practice is to have a standard training pack, and yourself and your employee to sign when each appropriate stage is trained and understood.
Always, always take the time to ensure that your employees are fully aware of the warranties and endorsements on your insurance policy and the importance of complying with them. Something that may seem unimportant can be the difference between being paid out in the event of a claim or not.
Waste
Bits or Scraps (depending on where you are from!) can be a huge risk to Fish and Chip Shops and Fast Food Establishments and are often overlooked. We personally have seen numerous instances where the waste was left in the shop after closing time and these have spontaneously combusted, leaving the whole shop ravaged.
Waste should always be stored as far away from your property ideally in a metal bin and this is usually another insurance warranty.
Understanding Equipment
If your fan starts making a noise, or not running quite right then turn it off and seek advice from an electrician. The motor could overheat and ignite fragments which may cause a fire to extend into the ceiling or walls.
Finally and possibly the most important point of all is to ensure you have the right insurance for your own shop, business and contents. Without the correct insurance cover, if the worst did happen, you are at risk of being unable to trade at all and may be unable to afford repairs. Specialist insurance, such as Fish and Chip Shop or Fast Food insurance is a complicated business, and talking to an experienced insurance broker, with a bespoke package is highly recommended. In the event of a fire, or any claim, by using an Insurance Broker, there is always a point of contact, somebody working on your behalf with the insurance company and offering expert advice.
Please contact us for further information or for a no obligation quotation.