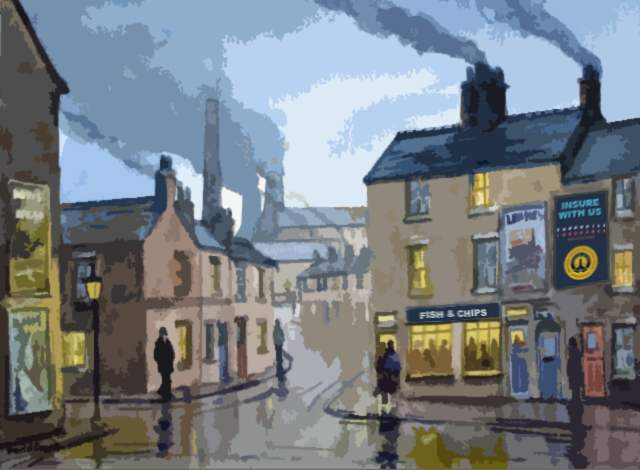 Loving fish and chips as a kid to protecting fish friers now!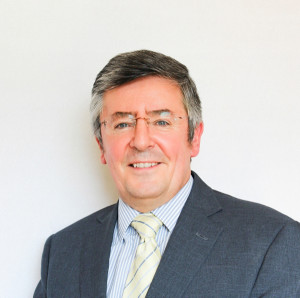 My Dad was in the Royal Air Force when I was a nipper. He was an engine  fitter, working on planes  like the Victor, the Valiant and the Vulcan Bomber. During the Cuba Crisis in 1962, we were stationed at RAF Coningsby in Lincolnshire. We never saw him for the full 4 days and nights. He likes to say now that he played his part in preventing World War 3, but now, at 96, that is another story.
Growing up in RAF stations during  the Sixties was a pretty  isolated existence. Usually several miles  from the nearest town because of the aircraft noise,  we were pretty  self-sufficient, and invariably the primary school  was near to the Married  Quarters, so we were very much  on our own. We had a sweet shop,  the NAAFI supermarket, a Barbers and a Ladies Hairdressers, and that  was just about  all that  was allowed.
Fish and Chips therefore, were a very rare treat. Not many people had cars to drive to the nearest chippy, but occasionally someone would volunteer, the word would then  go around the neighbourhood, which invariably resulted in an order for "Fish and Chips… 24 times please…"
In fact, when I think about  it now, fish and chips was virtually the only hot food takeaway that  there was in those days. I'd never  heard of an Indian Takeaway, or Chinese, and I'd no idea what a pizza was. I'd heard of them, but I didn't know what one was. After all, this was "Foreign  Food", and we Brits didn't touch the stuff. Spaghetti wasn't foreign food, because it came in a tin from Heinz, so that  was alright. But pizza! Not a chance.
When my Dad was de-mobbed in 1968, we moved to Yorkshire. It was then  that  I was more  than  delighted to realise that  Fish and Chips didn't have to be restricted to a once in every 6 weeks experience, as there seemed to be a chippy on virtually every street corner. With some careful fiscal control of my weekly 3 shilling (15P) pocket  money, I could indulge  my passion whenever I wanted. And I did, regularly. Often walking home  from junior school  and later from the Secondary Modern, open wrapped, with plenty of salt and vinegar,  held aloft in yesterday's newspaper, from prying hands after  a free chip or two.
Fast forward now to the glorious Summer of 1976. If you were there, you'll remember it forever. Wall to wall sunshine for weeks and weeks. In those days, every self-respecting 16 year old had to have a moped,  and I was no exception.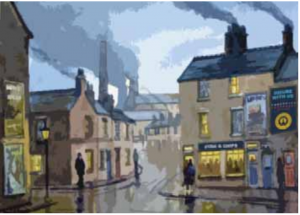 My mates all had flash  Honda CB50's and Yamaha FS1E's, but I could only afford a second hand Puch VD50, from some country  on the other side of the Iron Curtain,  which had a step
through frame, and all the street cred  of a pair of strap on roller skates. But I loved that  moped  – it was my first motorised vehicle and it took me everywhere.
One such  excursion was to North Yorkshire. Straight up the A1, before it was classed as a motorway, and sort  of turn  left. Setting  off at 7am, and at a steady 35 MPH flat out, we arrived  first at the delightfully  named village of Appletreewick for a cooling dip in the River Wharfe, then  on to nearby  Grassington for some lunch. There  is a lovely market square, edged  by shops and public houses, and there I noticed  a queue of perhaps 40 people, all stood chatting in the sunshine. Intrigued, we sauntered across to find they were all waiting patiently for the local chippy to open. Apparently, this chippy only opened Friday evenings and Saturday lunchtimes, but were regarded as the best  fish and chips in Yorkshire. I overheard one couple  saying they regularly drove from Skipton, but I didn't think anything  about  it at the time, until I realised later that it was a 19 mile round trip.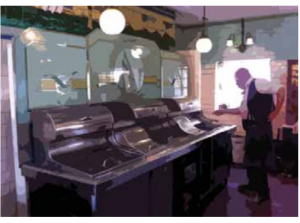 We had to experience this! And I have to tell you, sat on that  market square, under a shading tree, that  those fish and chips were little short of spectacular. After queueing for 30 minutes I was too hungry  to even think about  working out what the magic ingredients were, perhaps real ale in the batter, lager maybe? – I'll never know now.
I returned to Grassington several years later. The chippy was still there, but the queue was not. The previous owner had obviously sold up, and retired to his mansion on the Costa Del Sol, taking  his millions with him, and sadly the preparation methods and secret recipes that  had made his fortune. If only he had passed them  on….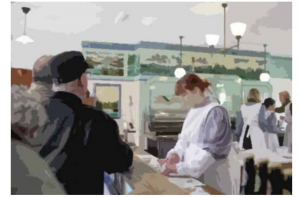 Fast forward again to the mid 80's. I had already been in business as an Insurance Broker for a couple  of years, when an insurance company offered  me a facility to insure Fish and Chip shops and offer our clients a dedicated fish & chip shop insurance package. And the rest, as they say, is history.
We now arrange fish & chip shop insurance cover for literally thousands of chippies throughout the UK, including Northern Ireland.
How curious that my favourite food is now putting food on my table, and how proud we are to be Associate Members of the National Federation of Fish Friers.
Give Thornhill Insurance a call on 01924 499182 or quotes@thornhillinsurance.co.uk visit www.thornhillinsurance.co.uk