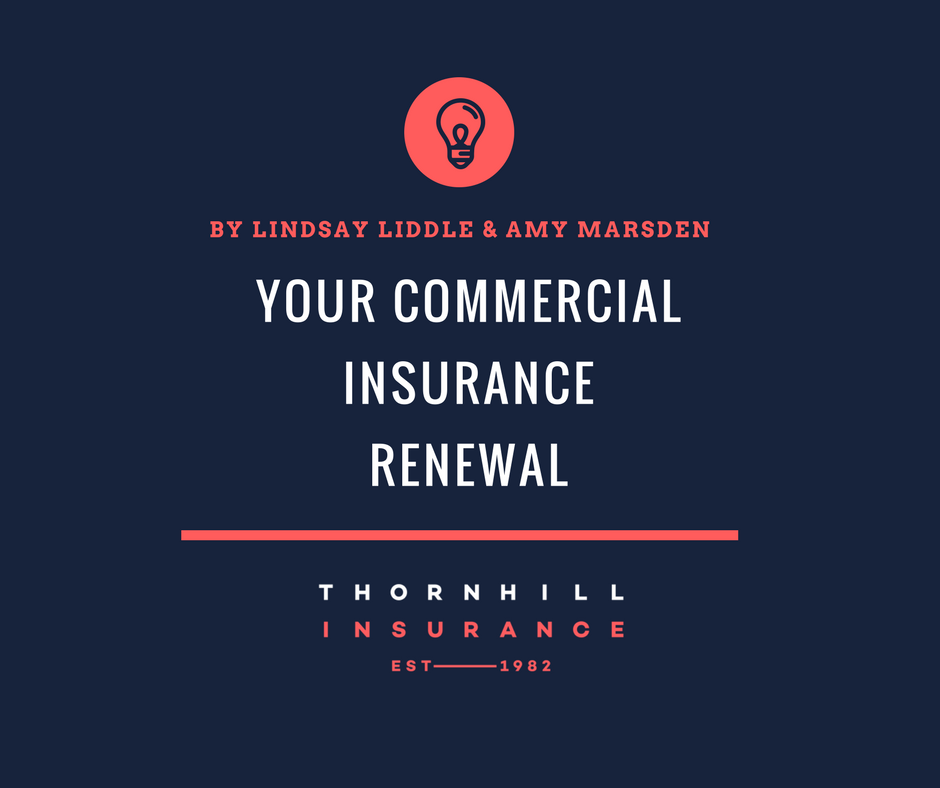 Your Commercial Insurance Renewal
At Thornhill Insurance one of our key focus areas for our clients is making sure your that both your personal and commercial insurance renewal is handled correctly and efficiently, therefore we have a dedicated team that work purely on renewals.
It is so important that any policy is set up with the correct cover, so to review this after 12 months is imperative, after all so much can change in this time! Our year in renewals fast disappears because we are always working at least one month ahead, so at the time of writing this we are now getting the Christmas Carols and mince pies ready!
Whilst renewals and this article are quite formal, we as a team are not! Our team is primarily made up of Lindsay and Amy. We have both been at Thornhill's for nearly 3 years now, Lindsay's background is banking (not that she admits this very often) and Amy has a retail background.
Our renewal quotations are sent out 14 days before your renewal date, but our process starts much earlier than that, often 4 to 5 weeks before hand.
We start by reviewing each file individually, looking at the cover from last year, security on the premises, how long the risk has been trading and any claims history there may be. To ensure we are really looking after our clients we have recently introduced many further checks and we now review the premises on google maps and check out any food hygiene rating. We even look at the Environment Agency site to look at the location to rivers and sea and their thoughts on risks to flooding, be it from rivers and sea or from rainfall and surface water.
Looking at the risks on google maps gives us a greater understanding of what we are providing insurance cover for, this means we can work with you as a client to ensure your commercial insurance is accurate. We are looking for things such as flat roof and whilst this is not an issue if you have flat roof it just needs to be disclosed and we appreciate not everyone may realise this. It's been amazing how many clients we have been able to help when we have noticed things that should be noted on a policy. If we do notice something like this, we always contact you as the client to discuss it, thus ensuring the information going forward is correct.
At this point we market the policies looking for the best price and terms available. This is key as there are many factors that can affect what terms and price an insurance company offer. At Thornhill Insurance we have many markets we can use but we want to make sure that we offer the most competitive renewal quotation, and this isn't always based purely on price! We need to make sure the terms are right for you, and as a business owner there are many things to consider regarding your cover, so we want to make sure terms of your commercial insurance is not something that gives you a headache. Once we have selected the best renewal quotation to offer, we then get this out to you.
This is where you as the client join the process! When you get the terms, please take time to read them. It is important that you review the information we hold on you and your levels of cover making sure they are adequate. For more information on this please read our article from the 16th October Watch out for Mr Average!
In the renewals team we love speaking with clients so when you get your renewal quotation, please give us a call if you have any queries or want to chat through the terms you have received. If we haven't heard from you closer to your renewal date, we will call you to discuss the terms and answer any questions you may have and get your policy renewed quickly and with no hassle.