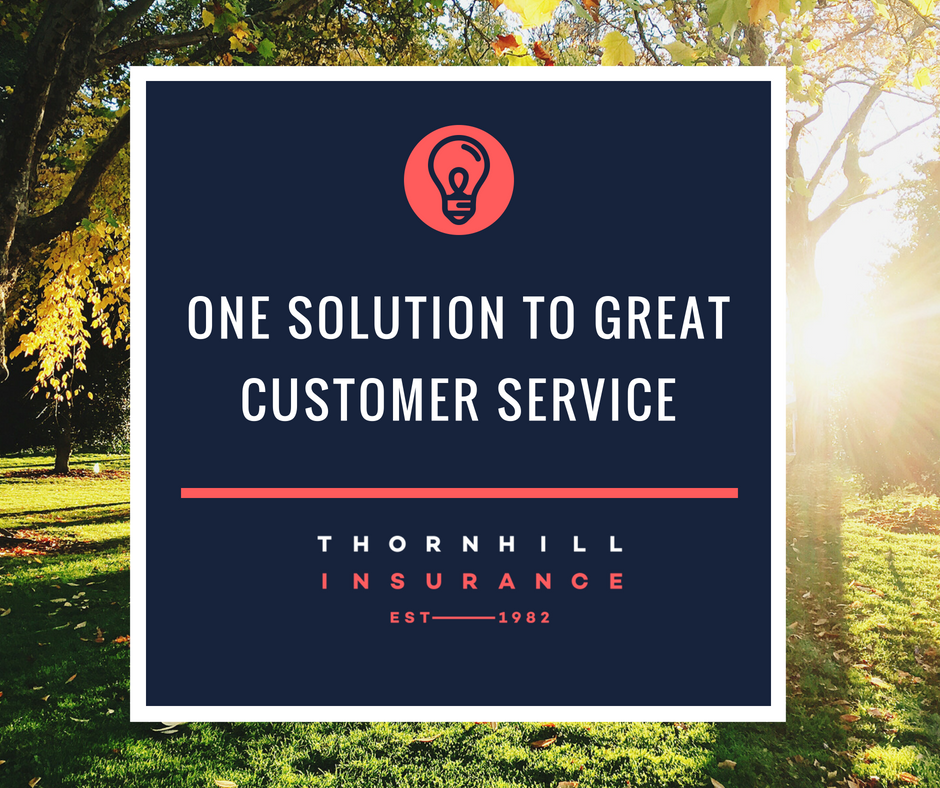 One Solution To Great Customer Service
On Tuesday 3rd July some of our team from Thornhill Insurance took part in a customer relations training course to help develop and enhance our relationship skills. Marshall Frieze who delightfully presented this training course is a highly successful Managing Director/ Sales Leader with excellent experience across Retail, Distribution, Network and Business. In today's business environment having a good sales strategy is paramount to the success of our business, therefore, we found this training would be something we would love to take part in!
We firstly took part in an exercise in which we had to find out a little more about our colleagues, we got into pairs and had to tell the other person something we never knew about each other, this was a good way to get people engaged and expose our confidence when speaking in front of our team. We certainly learnt a lot about each other during this exercise – Dan was unfortunately called Danielle in a junior school assembly when picking up a certificate award – ouch!
We then had to complete another exercise. In this we had to sell a product to our partner using our imagination. Now some people's imagination stood deeper than others, as we found this out with Conor who came up with a water bottle with built in air conditioning… now if this does appear on Dragons Den, you heard it here first!
We then discussed the importance of communication, whether it be face to face, over the phone, by email or even social media (you can find us on Twitter, Facebook & LinkedIn!). Communication is a major key when building a rapport with our clients, we feel this has given us a new way to improve our relationships as we are like no other insurance brokerage. As a family run business, we pride ourselves on offering the best customer service. We are real people behind the phone, from West Yorkshire who understand your insurance requirements. We want to build relationships with our clients, as your loyalty means everything to us and if you want to come down for a coffee and discuss your insurance policy, then please feel free to or we will happily come to you and bring the biscuits! 😊
Social media is a powerful tool and is always advancing. Platforms like Twitter and Linked In are great sights where you can branch out to thousands of existing and new clients by click of a few buttons. We discussed how important our presence on social media is and implementing additional communication such as a newsletter, as this will only bring our relationship with you closer. We are looking forward to introducing our newsletter which will include the latest news, upcoming events and our special offers you may not be aware of!
Overall Marshall has not only given our staff some great tips, but more of a morale and a great confidence boost. From this we all from Thornhill insurance would like to thank Marshall Frieze for taking time out of his day to teach us some of his tricks of the trade.
Here are a few comments from our staff at Thornhill Insurance
Tom Dolan:
"I feel this has helped me understand more about how to present myself when speaking to a client and I can't wait to meet some of our customers!"
Amy Marsden:
"As I work in the renewals department, I found it useful on how important it is maintaining relationships with my clients and not only contacting them at their renewal date but speaking to them more often throughout the year to check everything is running impeccably."
Sam Woodings:
"I now feel I can take what I learnt from Marshall and implement them into real life situations, feeling a lot more confident in myself and my abilities."
Big thank you to Sam, Tom, Amy and Melisa for helping write this article.
If you would like to meet the rest of our team please visit the link below: