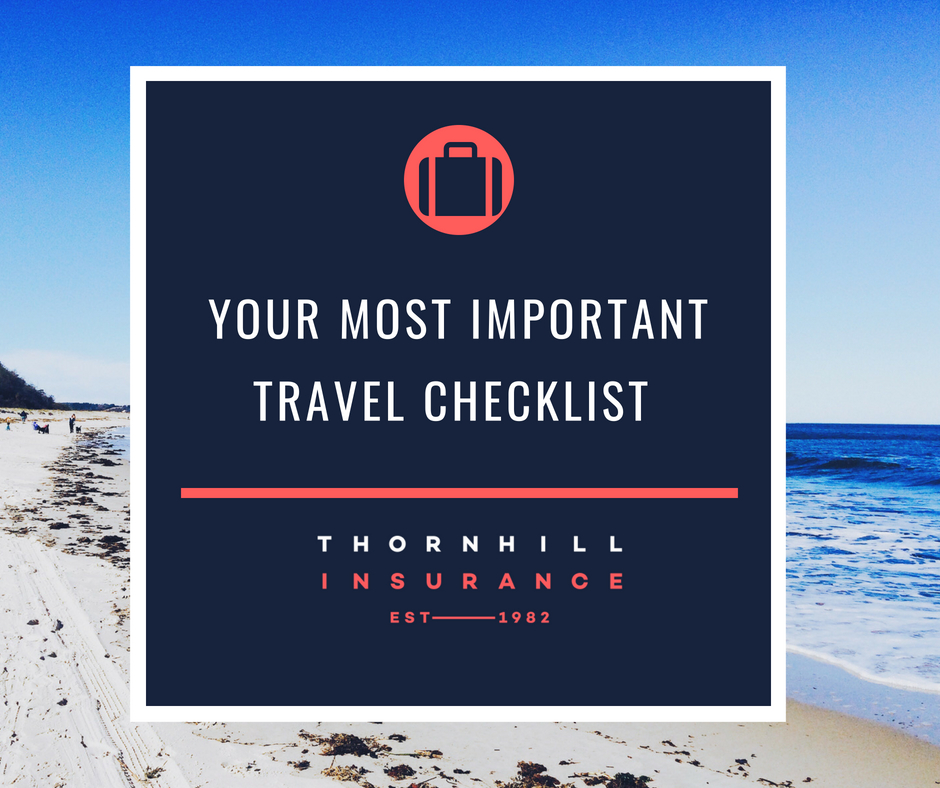 Your Most Important Travel Checklist
Holidays are the perfect antidote to the stress of modern living- isn't it wonderful not to live by the alarm clock?
For many of us, planning a trip is as much fun as going on it. However, don't just focus on the joy of choosing destinations, hotels and activities. There are some important issues you must take care of before you take off.
A true holiday means not having to worry about what you're taking with you and what you're leaving behind.

Stay secure
From the start of you holiday right until the end, ensure that your prized possessions are protected. An unoccupied house is a prime target for burglars and vandals. It is also more vulnerable to fire, water and electricity related hazards.
Technology nowadays is amazing and is always advancing. If you have money to spare, why not consider investing in home security systems. It is easier than ever to build a 'smart home' that allows locks, alarms, lights, appliances and gadgets to be controlled remotely using just your smartphone!
It is always a good idea to notify friends and family of your absence and ask them to keep a close watch over your house.  The last thing you want is to come back to a damaged home and spend a fortune rebuilding the house and restoring your possessions.
Stay safe
Whether you're planning to chill on a beach or dreaming of taming the giant white waves on your holiday, 'safety first' should be your all-time mantra. Foreign surroundings can often daunting.
Falling ill in a place where you are unfamiliar with the healthcare system could easily turn your holiday into a nightmare. Check with your doctor if you need vaccinations or preventive shots and renew any prescriptions. Before packing your regular medication, do check if all the medicines you are carrying along are legal in your destination country. If they are not, consult your doctor for solutions.
Travel insurance should be one of the first things you pack. Check with your insurance provider if your existing cover applies when you travel. If it doesn't, you might need additional cover depending on where you are heading!
 Stay prepared
"Life is what happens to you when you're busy making other plans." – John Lennon
This is true for holidays too. Even after extensive planning, things could go wrong. Expecting the unexpected may not do much to save your holiday but it can ease the pain that usually follows a mishap.
Scan your travel documents (passport, visa, insurance papers), bookings and even your credit cards and save the copies in a digital format – preferably in your email. Should these be stolen or lost, you have immediate access to the details for remedial measures. Also carry printed copies of your travel documents and store them in different bags as proof.
You must also carry the contact details of the local embassy of your country. Should you need assistance, the details will be at hand.
Your Travel Insurance is crucial – from cancelled flights to stolen baggage to accidents, travel insurance covers a range of incidents that can ruin your holiday. Travel insurance can protect you from any associated costs- then all you have to recover from, is the bad memories of a mishap.
Tick these boxes
Have you….
Checked all electrical connections, taps, alarm systems and other items that can cause hazards at home?
Notified family and friends that you will be away, and the house needs checking?
Frozen newspaper subscriptions? Nothing says 'unmanned' as a pile of newspapers and mail at the front door – an invitation to burglars and vandals.
Checked your household insurance for potential mishaps?
Scanned travel documents including passport, driving licences and insurance papers and stored them digitally in your email and made photocopies to carry with you?
Consulted your doctor about vaccinations you may need?
Checked your travel insurance covers the country of travel and is all in order and up to date?
If you would like to read other interesting articles, please visit our news page here!